Well, not really. It's actually pretty tame and generally overflowing with sweaty men and sometimes-amazing facial hair. Here we are one week after GDC, and I'm still recovering from this damn sinus plague (never should have shaken hands with that Somali pirate). But, body malfunctions aside, GDC was, as expected, terrific. Tiring, but terrific. For us, GDC started with the IGN Indie Press Mixer. First, let me just say that Happy Fisting is a real game. I'm not proud of that. That's simply a fact. But, moving on, the mixer was packed with press, developers and, most importantly, games. Highlights? For me it would have to be Aztez, a visually stunning brawler, and Soundodger, a high octane music-meets-bullet-storm game. Be on the lookout for both of these neat little titles (shout out to Team Bean!).
AZTEZ AT THE INDIE PRESS MIXER: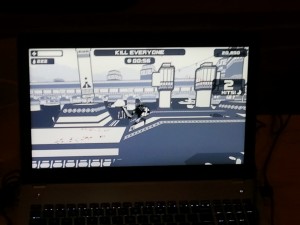 SOUNDODGER AT THE INDIE PRESS MIXER: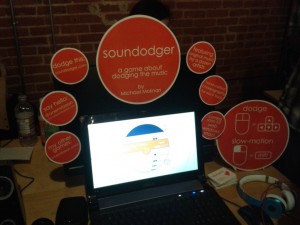 HANGING WITH THE GREAT INDIESTATIK AT THE INDIE PRESS MIXER: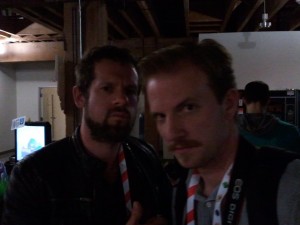 The Press Mixer was just the calm before the storm. We spent the next 3 days exhibiting Fist Puncher as part of GDC Play. Yeah, it was draining, we both lost our voices, and all the standing probably inched us a little closer towards needing to use canes to get around, BUT overall the Play exhibition was a huge success. We had tons of traffic, talked to boatloads of media, met all sorts of great developers and artists, got amazing feedback on the game, and even got a GDC Play "Best in Play" honorable mention. Hurrah! There were also some amazing games besides Fist Puncher in the GDC Play exhibit. Too many to name, but I'd be remiss if I didn't mention Chasm and Dungeon Dashers. Both of these titles are going to make many a gamer very happy.
FIST PUNCHER AT GDC PLAY: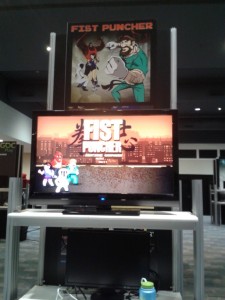 But, what about the parties, you ask? I'll be honest, we skipped Pow Pow… and we skipped the Minecraft party… and we skipped the Venus Patrol party… I guess we're just too cool for school? No, we were just exhausted (but we're glad we found people to gift our tickets to). However, we did roll to the Adult Swim party where low brow goofs like us were able to mingle with high brow creative types all while watching Aqua Teen Hunger Force. For me, this was possibly the best night of the conference. So many great people attended this one, and the vibe was low-key and relaxed.
ADULT SWIM PARTY: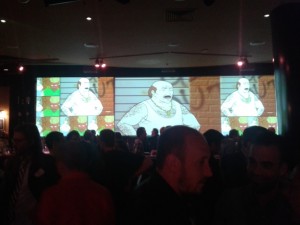 Although we did cross paths with Misfits Attic, our arch enemies. We went to blows later that night (sorry about the fat lip, Tim!).
MISFITS ATTIC AND TEAM2BIT PREPARE FOR BATTLE: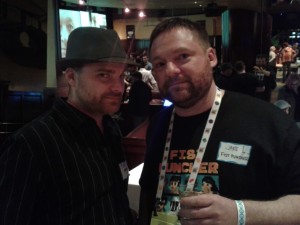 We also made it out to the Ouya unveiling party. This was also a blast (who can complain about free pizza, vegetarian tacos, and It's It ice cream?), and getting a chance to actually sit and play some bad ass Ouya titles like Canabalt and Saturday Morning RPG made us believers in the potential of this cool little console.
SATURDAY MORNING RPG AT THE OUYA PARTY: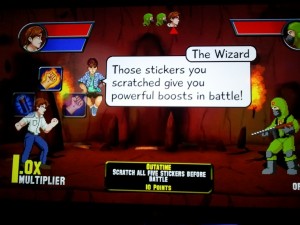 PLAYING CANABALT AT THE OUYA PARTY:

Some might also know that I used to be an avid classic game collector (Good Luck Charlie Brown! – we owned that!). At the Ouya party we ran into Greg Pabich. Greg owns the rights to Cheetahmen, one of the rarest NES titles ever. This definitely put a smile on my face.
GREG PABICH MEETS TEAM2BIT AT THE OUYA PARTY: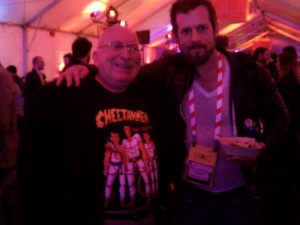 What about loot? Well, I did my best to gather as many stickers, buttons, and t-shirts as possible. No idea what I'll do with all this junk, but it's all sort of irrelevant since we scored the crown jewel of GDC swag: a Runner 2 action figure!
RUNNER 2 ACTION FIGURE: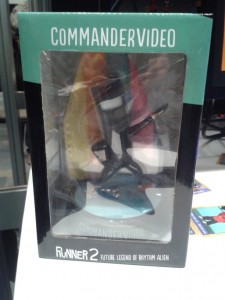 In summary, GDC left us with a little bit of sickness, lots of freebies, and a sweet amount of exposure for Fist Puncher. We'll be back next year and hopefully Jake will approve the Fist Puncher capes that I want to wear so badly. Onward!
FIST PUNCHER AT GDC: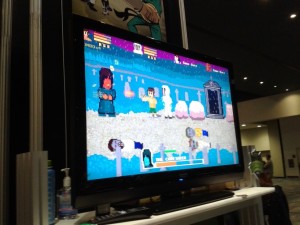 -MattKain
March 12, 2013
3:32 pm
Fist Puncher at GDC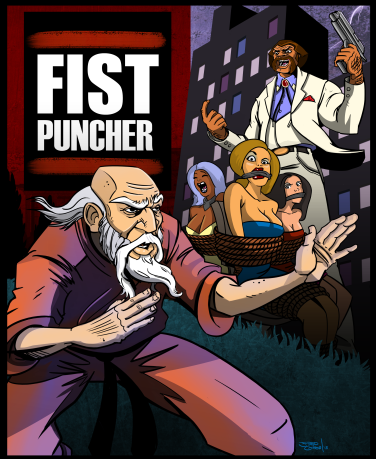 We're happy to announce that we will be exhibiting Fist Puncher at this month's Game Developers Conference (GDC) in sunny San Francisco. The exhibition hall will be open March 27-29 and Fist Puncher will be on display as part of the GDC Play exhibition in Kiosk 24. We're also happy to announce that we were given an honorable mention in the GDC Best in Play competition. We'll be giving out stickers and trading cards so stop by to grab some swag and knock in some pixelated teeth. With the Fist Puncher release on the horizon, this is THE best chance to play the most up-to-date version of our retro-styled, side-scrolling beat 'em up. We'll see you there!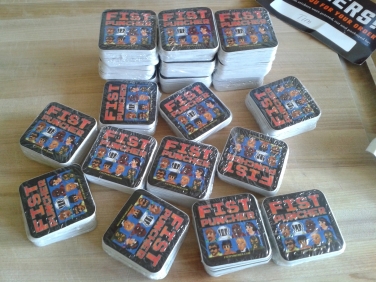 January 31, 2013
2:13 pm
GameSpot Interview

GameSpot continues its feature on 5 indie games to watch from the heart of San Francisco. Today Fist Puncher gets the spotlight. We stopped by and talked about the early development of Fist Puncher and some of the silly game projects we did as hobbyists when we were kids. Yes, there was a Max Headroom simulator. We did this all while bashing racists in the face. Check out the GameSpot interview below.
Be sure to check out the previous installments too. GameSpot featured A Virus Named TOM, Sub Rosa, and Super ComboMan earlier this week. The Bay area is poppin'.
January 30, 2013
2:07 pm
Developer Interview with Indie Statik
As a followup to Fist Puncher being featured on The Greenlight, one half or Team2Bit, Matt Kain, did a short developer interview with Josh from Indie Statik talking about Fist Puncher, Kickstarter, tasing dudes on nude beaches, and bike churches. Check it out below and, in case you missed it, you can scroll down a little further to watch Fist Puncher on The Greenlight.
January 28, 2013
12:04 pm
Fist Puncher on The Greenlight
Don't miss Fist Puncher on The Greenlight, a new YouTube show by internet superstars Jesse Cox (OMFGcata) and Josh Mattingly (IndieStatik) that features titles that they feel belong on Steam. Ever wanted to see someone's reaction when they discover an 8-bit version of themselves hidden inside a game? Yeah? Then watch the video. Be sure to also roll over to the IndieStatik channel and watch their companion-piece review of Fist Puncher. We know. That's a ton of Fist Punching to handle in one sitting. We have faith that you're tough enough to handle it.
January 28, 2013
12:06 am
Fist Puncher Steam Trailer
We've been holding this one back, but we made a special Fist Puncher Steam pitch video a few months ago and felt it was time to show it to the WORLD (note use of caps to suggest global influence). It was our attempt to show that we're a couple of classy gents making classy games for classy boys and girls. Believe it or not, we made two versions of this trailer, but after a rigorous debate we decided one version was a bit too… risque? Basically we didn't want to deal with the almost-certain deluge of hate mail that we would have gotten. Yup, I guess we're not as controversial as we claim to be. Now excuse me while I go pet a kitten… I mean *punch* a kitten!
View All T2B Blog Posts...