Reagan Gorbachev Run For It

November 17, 2015


Reagan Gorbachev: Sometimes everything goes wrong and all you can do is run for it.

Reagan Gorbachev Room Clear

October 26, 2015


Emptying out a room in Reagan Gorbachev.

Adult Swim Steam Weekend Sale

October 22, 2015


Every Adult Swim game on Steam is currently on sale, including our epic beat 'em up, Fist Puncher! If you already have Fist Puncher, check out some of the other amazing Adult Swim titles. Jazzpunk? Yup, it's on sale. Volgarr? Yeah, Volgarr too. Duck Game? Uh huh. Every single darn one of them. Check it out.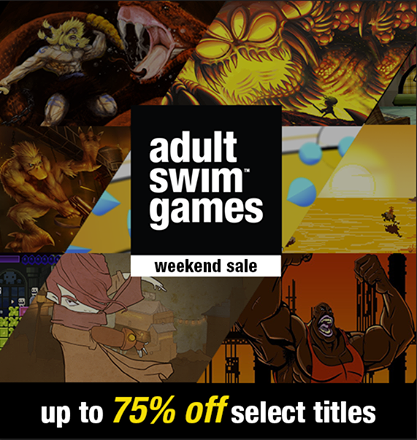 Reagan Gorbachev Traps

October 12, 2015


Y'all gotta look out for those traps.

Reagan Gorbachev Bugs

October 6, 2015


Everything looks fine and then…. BUGS!!!!

Reagan Gorbachev Speed Run

September 28, 2015


Testing a Reagan Gorbachev no-kill speed run achievement for Xbox One.

Reagan Gorbachev Electrocution

September 21, 2015


In light of recent electrocutions, we may need to reconsider this potentially insensitive scene in Reagan Gorbachev.

Fist Puncher Summer Sale on GOG

June 9, 2015


Fist Puncher is a sizzling 80% of on GOG.com right now. There's never been a better time than the present to get your hands on our epic multi-player brawler. Head over to GOG.com for details!

Older Blog Entries >>